The Physicians Report magazine is published three times a year and features news relevant to our members, such as industry innovations, challenges, developing dynamics, trial results, and more.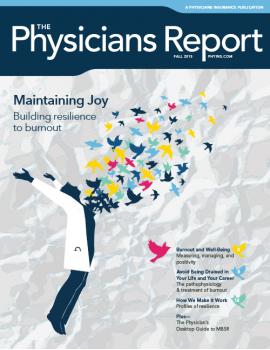 Fall 2015
A workforce compromised by dissatisfaction and burnout presents a serious threat to patient safety. And, as an increasing number of doctors decide to leave practice, access to care is threatened. Read more about the causes and cures of burnout, plus resources to help ourselves and each other.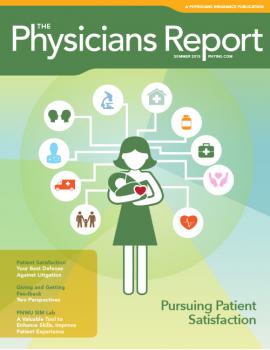 Summer 2015
When most physicians think of patient satisfaction, they associate it with patient-experience scores, quality of care, Medicare and Medicaid rebates or penalties, and possibly even hospital readmission rates, but few are aware of the strong link between patient satisfaction and medical professional liablity risk. This issue explores this link as well as other key aspects of achieving and maintaining positive patient experience.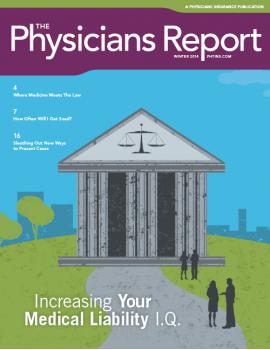 Winter 2014
How and where physicians learn about, and integrate, a legal sensibility into their work is tricky. In medical schools the focus is appropriately on medical training, not on legal concepts. Yet as health care professionals begin their careers, they want to know how the legal environment can impact their practices. This edition focuses on where medicine meets the law, discusses the nature and art of a good deposition, explores research on frequency of lawsuits by specialty, and looks at how to respond to patients after an adverse event.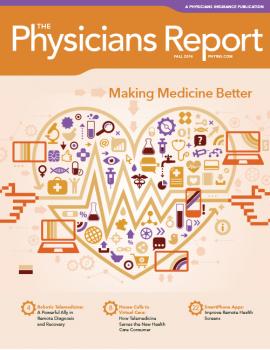 Fall 2014
When all parts of the person are cared for, the work of the physician will produce better outcomes. We are fledglings today when it comes to connnecting all these parts. Fortunately, we are seeing many new inspiring technological advancements and more creative ways of working together to Make Medicine Better!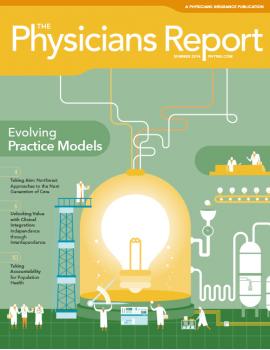 Summer 2014
Clinically integrated networks (CINs) and accountable care organizations (ACOs) have been getting a lot of press during recent years, but how do they really benefit medicine? How are they different from each other and what makes them succeed? In this issue, we explore CINs and ACOs from a national perspective, plus drill down to look at what our local colleagues are doing to organize themselves into care networks for the next era of medicine.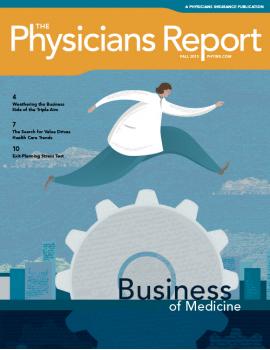 Fall 2013
This edition explores the business of medicine, including helpful articles on how to thrive during this time of health care transformation, how to keep your practice HIPAA-compliant, how to avoid business claims, and more. It also introduces new CME programs, spotlights a Physicians Insurance member, and updates Oregon members on current legislation affecting medical practices.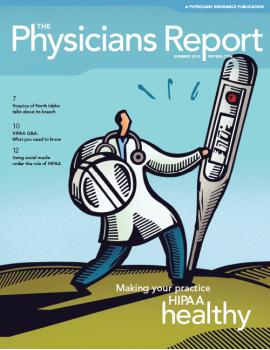 Summer 2013
This edition is full of HIPAA advice, case studies, and resources. It also explores social media marketing, details new laws, introduces Board members, welcomes new Physicians Insurance members, describes our new online COI tool, and discusses two professional liability cases resolved by arbitration.
Special Year-End Edition 2012
This edition describes the company's ongoing local presence and value to policyholders, outlines a recent trial result, introduces new tools and resources, and explains how our members' feedback has contributed to our recent developments.
Summer 2012
This edition shares the company's recent developments and explores rural health care challenges from physicians' viewpoints. You'll read about a recent acquisition for the company, in addition to a tribute to our immediate past chair, Dr. James Campbell, and an introduction to our new chair, Dr. Brian Wicks. Plus, we'll update you on our work with HealthPact, an exploration of the second-victim phenomenon, and more. In the latest edition of our quarterly newsletter, you will find: