History
Physicians Insurance was founded in 1981 under the auspices of the Washington State Medical Association. Physicians believed then, as they do now, that they would get better service and outcomes from a company that they owned, rather than from a giant, national firm with no local presence.
Since then, other insurance carriers have entered and left the market, but Physicians Insurance has remained the stable, committed, and local insurer for physicians, clinics, facilities, and hospitals. In the intervening years, the company has experienced steady growth and has built a strong financial base by providing broad policy coverage, related claims and risk management expertise, and exceptional customer service, all at competitive rates.
Today, Physicians Insurance serves more than 8,500 members in Alaska, Idaho, Oregon, and Washington, and provides risk-management consulting, continuing medical education, and claims-administration services. The company has grown to be the largest insurer of physicians and rural critical-access hospitals in the Pacific Northwest, and is rated A- (Excellent) by AM Best Company.*
Our Purpose
To protect, defend, and support our Members.
Our Core Values
People-first: We treat everyone with respect and empathy.
Expertise: We strive to be the best at what we do.
Commitment: As a mutual company, we are accountable and dedicated to our Members and to each other.
*AM Best's ratings are on a scale from A++ (Superior) down to D (Poor), with even lower ratings for companies under regulatory supervision or in liquidation.
Physicians Insurance A Mutual Company Board of Directors
Physicians Insurance is a mutual insurance company governed by a board of directors elected by the policyholders. Physician representation on the Board is guaranteed by the bylaws, and the company benefits from the expertise of several nonphysician directors. Below are the names of the current Board members.
David Carlson, DO, Board Chair
Family Medicine
Tacoma, WA
Bill Cotter
President and CEO
Physicians Insurance A Mutual Company
Seattle, WA
Joseph Deng, MD
Anesthesiology
Portland, OR
Jordana Gaumond, MD
General Surgery
Portland, OR
Gary Goin, MD
Family Medicine
Olympia, WA
Jennifer Hanscom
Chief Executive Officer
Washington State Medical Association
Seattle, WA
Skip Li, JD
Attorney
Seattle, WA
Ursula Luckert
Clinic CEO
Portland, OR
Shane Macaulay, MD
Diagnostic Radiology
Bellevue, WA
John Pasqualetto
President, Chairman, and CEO,
Seabright Holdings (retired)
Seattle, WA
Walter Skowronski
President, Boeing Capital Corporation (retired)
Kirkland, WA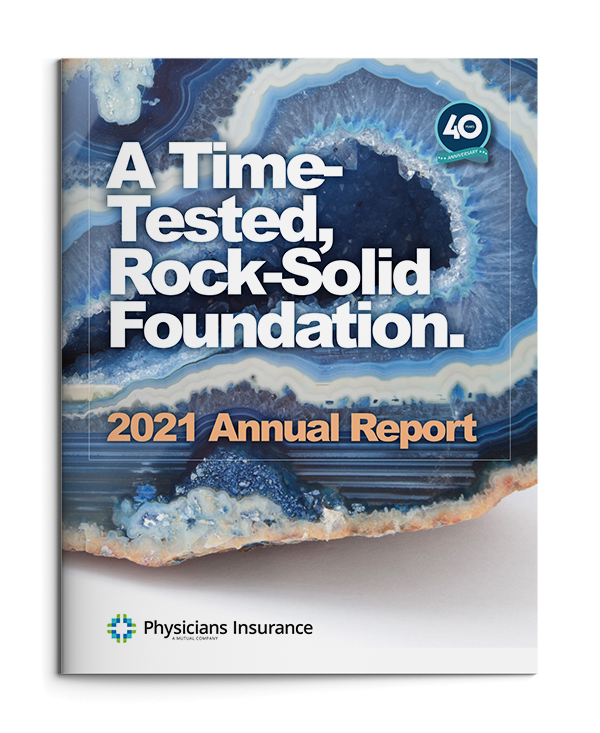 Financial Stewardship and Performance
In January 1982, known then as Washington State Physicians Insurance Exchange (WSPIE), the Washington State Medical Association (WSMA), and individual physicians got together and wrote personal checks to provide $2.4 million in loans to start the company.
Fast forward to the present: Physicians Insurance is commemorating 40 years of financial strength and support for our members. Our policyholder surplus is approaching $290 million and we hold an A-(Excellent) rating by AM Best*. In 2021 we generated more than $140 million in premium and $7.3 million in net income.
We've become the number one insurer of medical practices and critical access hospitals in the Pacific Northwest and are expanding nationwide through our affiliate, MedChoice RRG. We go the distance in providing experienced, rigorous claims defense, while collaborating to reduce risks with tailored risk management services. Working with our broker partners, we remain focused on protecting and serving: 
7600+ physicians
350+ clinics, community health centers and other medical facilities 
60+ hospitals  
Physicians Insurance is a mutual company that is owned and directed by you, our member owners. We rely on each other during both easy and unprecedented times. We are grateful for the opportunity to support and protect you, and we hope you see the long-term value of your company's support. There is always one thing you can count on:
Physicians Insurance will be alongside you every step of the way.
After all, we are your company.
---
Documents:
---
* A.M. Best's ratings are on a scale from A++ (superior) down to D (poor), with even lower ratings for companies under regulatory supervision or in liquidation.
"We in America do not have government by the majority. We have government by the majority who participate."
-- Thomas Jefferson
---
Physicians Insurance Participates
Advocacy is crucial to ensuring that the concerns of our members and their patients are heard by lawmakers at both the state and national level. That's why the Government Relations program at Physicians Insurance works in close cooperation with many other organizations that pursue similar goals, and our staff have become trusted and valued sources of information and ideas for legislators, regulators, and others concerned about our issues.
As a result, we are frequently asked to serve on task forces to develop new laws and regulations and to serve on the boards of local and national organizations and coalitions. For instance, our in-house lobbyist Anne Bryant serves as the Chair of the Government Relations Committee for the Medical Professional Liability Association (MPL Association). We are established as a leading advocate for laws that impact health care liability, insurance, and patient safety. In addition, we work to promote civil justice issues from a defense perspective.
As we keep abreast of issues facing our region, our strong advocacy continues nationally and in states in which we provide coverage. We focus on work such as supporting Crisis Standard of Care, the Good Samaritan Health Professionals Act, COVID-19 liability and telemedicine liability protections. We also work to defeat proposals that increase the cap on non-economic damages recoverable in person injury and wrongful death actions in states that have damage caps in effect. In addition, we work closely with state hospital and medical associations and specialty societies in Alaska, California, Idaho, Oregon, and Washington.
We also recognize the importance of bipartisan support of candidates open to reasonable laws in our areas of emphasis: health care liability reform, insurance, and patient safety. We support efforts to recruit concerned, legislative and judicial candidates who have a balanced and fair approach and who are able and willing to look at all sides of these issues.
For more information or questions, please contact Anne E. Bryant, Senior Director of Government Relations, at (206) 343-7300 or govrelations@phyins.com.
---
Relevant Links
---