Breaking down the five keys to victory in a recent medical negligence case 
After nearly five years of waiting and worrying, Dr. Anderson* was finally getting his day in court. The suspense was palpable as the bailiff called the courtroom to order. Dr. Anderson was well aware that what happened in the days ahead had the potential to jeopardize his career—or vindicate him.
In the end, jurors found that Dr. Anderson, a physician insured by Physicians Insurance, had met the standard of care, and they awarded the plaintiff nothing. Dr. Anderson began to put the lawsuit behind him and continued building his busy practice. A "post-mortem" review at Physicians Insurance confirmed that his protracted lawsuit offered valuable lessons for any doctor facing medical negligence litigation. 
The case dates to 2017, when Dr. Anderson performed a diagnostic procedure on a Mr. Benton. The impetus for the procedure was Mr. Benton's chronic pain, which was leading to concerns about cancer. 
Dr. Anderson, his experienced nursing staff, and two expert witnesses for the defense would later testify that the medical team had followed best-practice guidelines. Even the plaintiff's witnesses agreed that the pre-procedure care and technique had been appropriate. Indeed, Mr. Benton was discharged home with stable vital signs, according to standard protocols.
However, the morning after the procedure, Mr. Benton appeared at Dr. Anderson's practice complaining of pain. Dr. Anderson performed a physical examination and advised Mr. Benton to go to the hospital; he underwent surgery later that day. 
On these facts of the case, the defense and plaintiff agreed. Their impressions diverged sharply, however, regarding immediate post-treatment care. The lawsuit accused Dr. Anderson of failing to take Mr. Benton's pain symptoms seriously during the recovery period, and Mr. Benton alleged that the nurses had "pushed him out" despite complaints of pain. The lawsuit sought $1.5 million in compensation for physical and psychological suffering.
---
Risk Management Takeaways: Practices That Can Contribute to a Successful Defense
Should you receive a claim, the following practices could help support your case: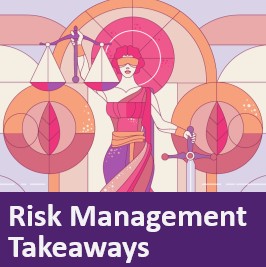 Policies and Procedures. Develop and maintain appropriate patient care policies, including patient assessment, monitoring, and discharge, and train the healthcare team on complying with the policies.
Strong Documentation. Adopt policies requiring timely and complete documentation of patient care, and provide ongoing training for the healthcare team as your record system is updated or changes.
Informed Consent. Explain the procedure, risks, alternatives, etc., to the patient, and document this conversation in the medical record. Have the patient acknowledge the appropriate consent forms that support this communication, and ensure that the signed acknowledgement is retained in the record.
---
Confident that he and his staff had done nothing wrong, Dr. Anderson chose not to settle. Physicians Insurance prepared his defense, hiring seasoned trial lawyers. Here, the defense counselors and our senior claims manager analyze the factors that led to the winning verdict.
1.    An "all-in" approach from Physicians Insurance 
Our claims manager's primary role was to coordinate the support team, which included the lead attorney, expert witnesses, and a jury consultant. She stayed in close contact with Dr. Anderson, providing frequent check-ins and informing him about each step in the legal process. She attended depositions, which took place in person despite challenges related to COVID-19 social-distancing restrictions. And she participated in strategy sessions with other team members, contributing valuable insights. 
The claims manager had experience as a litigation paralegal on plaintiff and defense cases in a personal injury practice for 20 years before joining Physicians Insurance. This background helped her identify the plaintiff's weaknesses. "I knew we had a strong chance of winning when I attended Mr. Benton's deposition, because of how he presented himself," she says. "He was quite dramatic and defensive. I felt strongly that these characteristics would make a jury unlikely to trust his testimony."
2.    Adequate documentation and credible nurse testimony
The lawsuit leveled numerous charges against Dr. Anderson and his nurses. Among them:
The pre-op nurse did not ask Mr. Benton to describe his current pain level, but rather his "pain history"
Mr. Benton complained about pain after the procedure, but the nurses ignored his concerns
Dr. Anderson's post-procedure evaluation was inadequate and should have included tests to look for non-specific symptoms
Documentation in Mr. Benton's medical record, while not perfect, addressed some of these concerns at trial. Dr. Anderson's nurses provided credible testimony to clarify a few gray areas. 
Mr. Benton was complaining of a three-out-of-ten pain level at discharge, and the medical record clearly showed that this was the same pain he had described just before the procedure the previous day. The pre-op nurse confirmed at trial that she had followed best practices by asking him to describe his current pain level, not his pain history. Additional nurse testimony showed that Dr. Anderson was kept informed and aware of Mr. Benton's symptoms, and that the patient was discharged according to appropriate criteria.
Documentation from the post-op period seemed to sway the jury, although testimony from the nurses was critical. "I wished the documentation had been a bit more thorough," says the lead defense attorney. "There was a gap of 26 minutes in the post-op period in which the nurses didn't document anything. During this time, they were monitoring Mr. Benton for signs of complications. However, without such notes in the record, the plaintiff could present Mr. Benton's alternative version of events and try to sow seeds of doubt for the jury. Thankfully, they weren't successful."
3.    Skilled legal counsel
This was the lead attorney's first time in that role on a medical negligence case. She was supported by a medical malpractice veteran with 38 years of experience in this highly specialized field of law. They made a formidable defense pairing. Day to day, the lead counsel worked closely with the claims manager, did all the depositions, hired expert witnesses, and managed myriad additional detail—with her senior peer as a resource as needed. 
"The lead counsel had every bit of Physicians Insurance's confidence—when she presented her opening statement to the jury, it was as if she'd done it fifty times before," says her colleague. "Physicians Insurance is very good at recognizing young, talented lawyers and giving them opportunities to succeed. Importantly, the company is investing in cultivating the next generation of malpractice defense attorneys, which will only benefit its insured members in the future."
4.    The advantages of being live and in person
The trial began during a surge in COVID-19 cases. Courts began canceling jury trials and moving other legal proceedings to Zoom, but this case remained in person. Everyone wore a mask except when they were questioning a witness or giving testimony. "Mr. Benton presented himself exactly as I thought he would—had we been on Zoom, the effect might not have been as pronounced," recalls our claims representative. "He was very melodramatic. He also appeared physically well, which didn't support his claims of suffering."
Our defense counsel had hired two seasoned experts to testify on Dr. Anderson's behalf. Both stated that the surgical technique, post-op monitoring and decision to discharge were appropriate. These knowledgeable, articulate clinicians were a stark contrast to one of Mr. Benton's main expert witnesses, a Dr. Severt, whose expertise was not in the relevant specialty. Dr. Severt criticized many aspects of the post-op care Mr. Benton received. But coming from a physician who had never performed the procedure at issue in the case, his arguments seem to have been less than persuasive to the jury. 
5.    A credible counterargument
At the heart of the plaintiff's case was the contention that Dr. Anderson should have diagnosed the perforation in the immediate post-op period. Expert witnesses for the defense presented an alternative version of events based on evidence from the medical record.  
When Mr. Benton presented at Dr. Anderson's practice complaining of pain, he mentioned that he'd eaten two meals since being discharged after the procedure. 
However, at trial, Mr. Benton denied having eaten anything after the procedure, and accused Dr. Anderson of lying in the chart and on the stand. When one of the defense's expert witnesses pointed out facts noted in the medical record that could not have been present unless Mr. Benton had eaten, our claims manager saw incredulous reactions from jury members. "They were looking to see who was credible on the stand, and this was objective proof that the plaintiff had not been credible," she explains. 
A brief wait for justice
Having attended almost every day of the two-week trial, the team felt confident as the jury began deliberations. 
"All the indicators were there for a good outcome—but you never know until the jury decides," noted our defense lead.
Thankfully, the jury announced its verdict in favor of Dr. Anderson after just a few hours of deliberation, and the case came to an end. In the coming weeks, the involved colleagues at Physicians Insurance met to debrief and identify the lessons learned. In some situations, litigation can reveal opportunities to help Physicians Insurance members develop better risk-management practices—but that wasn't the case this time.
"Just because you get sued doesn't mean you did anything wrong—you can follow best practices and end up in court anyway," reflects our claims manager. "Claims happen, and when they do, Physicians Insurance supports its members every step of the way."*The names of the plaintiff and physicians have been changed for anonymity. 
 
*The names of the plaintiff and physician have been changed for anonymity.