Employment disputes affect employers of all sizes. Smaller employers frequently believe they are "too small" for employment laws to apply, but federal anti-discrimination laws apply to employers with 15 or more employees, and state anti-discrimination laws apply to employers with even fewer employees. Smaller employers are also often the most vulnerable to employment disputes because they frequently lack a dedicated human resources professional with the necessary experience and knowledge to navigate in this tricky area. And while larger employers can typically absorb the costs of employment disputes, smaller employers may be forced to shut their doors.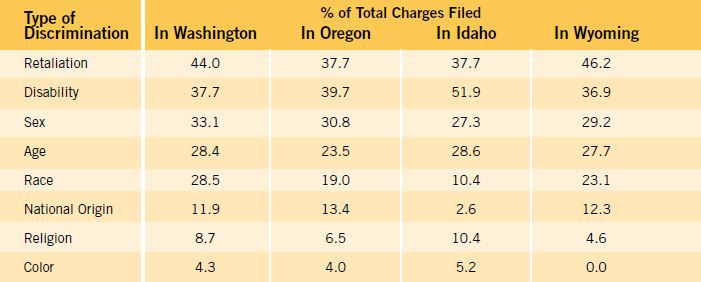 In 2013, 93,727 charges of discrimination were filed with the U.S. Equal Employment Opportunity Commission (EEOC). Of those, 1,285 were filed in Washington, 247 in Oregon, 77 in Idaho, and 65 in Wyoming. The chart above shows the percentage of charges of discrimination filed in Washington, Oregon, Idaho, and Wyoming by type of discrimination. 
The top five allegations in charges of discrimination filed in the Pacific Northwest in 2013 are (1) retaliation, (2) disability, (3) sex, (4) age, and (5) race. Notably, the high frequency of alleged retaliation in the Pacific Northwest mirrors a nationwide trend. From 1997 to 2013, the percentage of charges of discrimination filed with the EEOC making allegations of retaliation increased from 22.6% to 41.1%.
While not all charges of discrimination turn into lawsuits, many do. In fact, employment disputes continue to be one of the fastest growing areas in civil litigation. In 2013, there were a total of 253,914 federal dockets, of which 20,704 were filings relating to employment practices such as discrimination. Thus, employment disputes remain a fact-of-life for employers.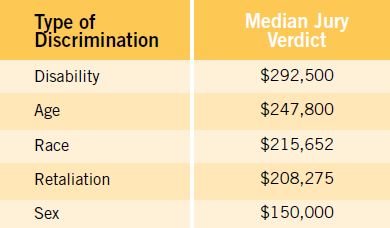 EMPLOYMENT DISPUTES ARE A COSTLY FACT OF LIFE FOR EMPLOYERS
According to Jury Award Trends and Statistics published by Westlaw, in 2011, the median jury verdict awarded to employees in employment litigation of all types was $325,000. The chart to the left shows the median jury verdict by type of discrimination While settlement is often a less costly resolution, the median average settlement was still $100,000. Beyond settlements and verdicts, attorney fees and costs in employment litigation frequently range from $200,000 to $300,000 (not to mention the employee's attorney fees and costs, which an employer may have to pay if it loses at trial).
BEST PRACTICES TO MINIMIZE THE IMPACT OF EMPLOYMENT DISPUTES
Fortunately, there are proactive steps an employer can take to minimize the likelihood and impact of employment disputes based on discrimination. 
Enact an Employee Handbook. A thorough Employee Handbook consolidates an employer's policies and procedures into a single source, communicates an employer's expectations and obligations to employees, and helps to lessen an employer's exposure to employment disputes. Among the most important policies in any Employee Handbook is the Equal Employment Opportunity (EEO) policy. An EEO policy should express commitment to a discrimination- and harassment-free workplace, explain the procedure for employees to report discrimination and harassment, outline the steps the employer will take to investigate, and describe the disciplinary process. Once an employer has enacted a proper Employee Handbook, it should be consistent and rigorous in adhering to it.
 
Provide Training. All employees should be provided anti-discrimination and anti-harassment training on hire, as well as periodically after hiring. Managers and supervisors should be provided additional training on properly handling and responding to complaints of discrimination/harassment.
 
Document, Document, Document. A frequently encountered scenario in employment disputes is that a legitimately disruptive and poorly performing employee is discharged. The employee alleges he or she was actually discharged on the basis of a protected characteristic, such as gender, and files a lawsuit. When the employee's file is reviewed, there is little to no documentation of the employee being disciplined for behavioral issues, and performance evaluations reflect an average performing employee rather than a poorly performing employee. Under these circumstances, the employer will struggle to convince a jury that the employee was fired for the legitimate reasons claimed. Thus, for all employees, immediately document disciplinary issues and complete regular performance evaluations that are truly representative of performance. Other helpful documentation includes records of anti-discrimination and anti-harassment training and records of past and current complaints of discrimination, investigations and outcomes.
 
Be Consistent. Employers should ensure that actual practice consistently matches policies and that policies are consistently applied to all employees. Selective application and enforcement of policies is a frequent basis for alleged discrimination that juries often find persuasive.
 
Protect Against Retaliation. Once an employee has made a complaint, the potential for actual or perceived retaliation is acute, difficult to manage, and substantially increases an employer's potential exposure. To protect against this, employers should:
Ensure their EEO policy also prohibits retaliation and provides adequate reporting, investigatory, and disciplinary processes for retaliation complaints.
Provide training regarding retaliation.
Maintain confidentiality as much as possible. Although employees accused of discrimination should be informed, one cannot retaliate against a complaint they are unaware of.
Consider protective measures, such as allowing the employee to report to a different supervisor, although the complaining employee should be consulted to ensure the protective measures themselves are not perceived as retaliation.
Be proactive and engage with the employee, rather than isolating or ignoring the employee to avoid the perception of retaliation.
Closely scrutinize subsequent employment actions for retaliation, including asking if the action is consistent with the employer's policies and practices and whether the action is supported by adequate documentation of a legitimate, nonretaliatory reason.
Physicians Insurance members have access to employment-related forms and policies at www.phyins.com/EmployeeRelated, phone support for employment-related risk management questions at (800) 962-1399, as well as access to an EPL HR Specialist Hotline at (800) 387-4468. 
 
Justin A. Steiner is an attorney with Bennett Bigelow & Leedom in Seattle who advises and defends physicians, clinics, and hospitals in both employment and medical malpractice matters.