No one can say the healthcare industry is dull and static these days. Quite  the opposite – change is a constant on nearly every level.
While some private-practice physicians find keeping things as close to the status quo as possible works best for them, a growing number are shaking up their organizations by joining forces with hospitals or other private practices. There's strength in size, to be sure, and growth is undoubtedly exciting; but with it comes uncertainty, discomfort, risks, and complications. 
With an acquisition by a larger group or hospital system, the transition, while full of challenges, is more straightforward, usually dictated by the buyer.
When Western Washington–based Washington Gastroenterology was formed from four independent practices in January 2018, it didn't have that problem. That's because it had done this before. In fact, one might be pressed to find a more veteran practice when it comes to blending with others to create a bigger, better organization. Skipping over many of the usual problems attendant upon growth, the organization fused together the practice ideals of each of its practices for the greater good.
PRACTICE MAKES PERFECT
Dr. Ralph Katsman, who has been practicing gastroenterology in Tacoma since 1993, is Washington Gastroenterology's president. Like all of the 41 board-certified gastroenterologists at Washington Gastroenterology, Dr. Katsman, during his medical school at University of Washington and residency and specialty training at University of Minnesota, was drawn to gastroenterology by the people he encountered in that field.
"The professors and doctors who mentored me, the ones I respected the most, were in gastro," he says. "I was also attracted to the wide variety of practice that gastro entails."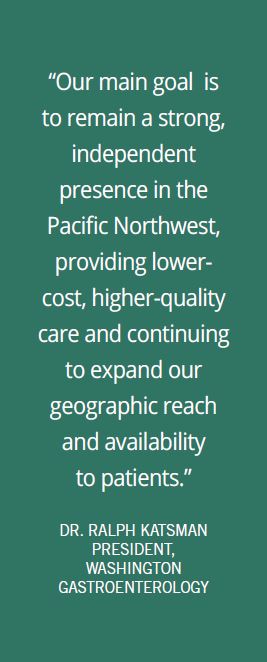 Dr. Katsman has the unique experience of having worked for his whole career at one practice that has successively evolved into new ones over the years. His group has been in a state of consolidation, integration, and growth ever since he came aboard.
When Digestive Health Specialists converged with Olympia's Gastroenterology Associates and Northwest Gastroenterology Associates and Overlake Internal Medicine Associates–Gastroenterology in the Bellevue/Eastside area in 2018, the number of its doctors doubled, making the newly named Washington Gastroenterology the largest gastroenterology practice in the state of Washington, with 20 locations from Edmonds to Olympia. 
The four groups had started talks in 2015 about how to collaborate and came to the decision to unite their operations into a single unified practice in order to meet the ambitious goals they all shared: utilizing state-of-the-art equipment, conducting pioneering clinical research, and providing an unparalleled range of clinical and management expertise. "To compete with hospital systems and provide the care we wanted to provide, we knew this was the way to go," Dr. Katsman says. And yet, the organization remains an independent, physician-owned and -governed practice, focused solely on its primary mission: doing what is best for patients and their digestive health.
"Everything we had done prior was on a much smaller scale, but it laid the groundwork for what was to come," Dr. Katsman says. "We learned that this kind of undertaking is very difficult, and it takes a lot of work," he adds—which meant that his group knew what they getting into. The most important thing, he's learned, is that "group members have to be aligned on goals and share the understanding that everything is for the good of the group and the patient base, which means altering practice patterns to achieve efficiencies and increase quality of care. You have to decide if you're the kind of practice that is capable of change." 
GROWING PAINS
Practices should determine why they want to merge in the first place—and the reasons should be strategic, both financially (in terms of cost savings and higher revenue) and operationally (in terms of efficiency and increased service breadth and reach). The next step is formulating a plan to make those reasons a reality. Taking care of the business is crucial, and so is taking care of the people—because they're the lifeblood that will make the new organization thrive.
"Culture is extremely important to bringing people together," Dr. Katsman says. "Smaller groups are more independent, and it's harder for them to adapt—but they have to. Likewise, larger groups have to pay attention to the smaller practices joining them and incorporate their ways into the new organization too. You have to create schedules and systems and a work environment that takes everyone into account. We have lots of discussions to arrive at a consensus on everything from deciding on a medical-record system to the role of each leader."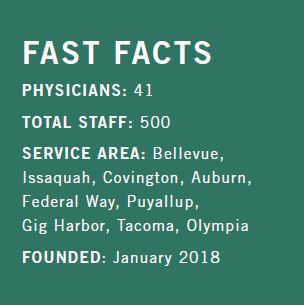 The practice's competitors are hospital systems and multi-specialty networks, but, as Dr. Katsman says, "Our advantage is that our outpatient procedures are less costly." Washington Gastroenterology is also expanding into bariatric work and doing more with its management of liver disease—a growing problem with recent increases in hepatitis C and obesity.
"Our main goal is to remain a strong, independent presence in the Pacific Northwest, providing lower-cost, higher-quality care and continuing to expand our geographic reach and availability to patients," Dr. Katsman says. "There are many small, independent practices with one to three physicians that are interested in our leadership and what we can do to help them."