Doctors become doctors because they love medicine, because they're called to treat disease and make people well.  And obviously, doctors go to medical school to learn how to be doctors. 
Yet many doctors—the ones who want an independent practice, anyway—end up being business owners too, running companies that generate hundreds of thousands of dollars, if not millions of dollars, a year. 
But most doctors do this without any business training—and in some cases, without much interest in business at all.
So the very nature of an independent medical practice has always been a conundrum, even when such practices were more common and less complicated than they are today. Layer on increasingly complex regulations, technology, and payer negotiations, as well as growing competition from urgent-care and retail clinics, and you have a recipe for more doctors selling their practices simply so they can do what they do best—while working reasonable hours for a predictable paycheck. According to a 2018 New York Times article, big hospital groups employed 43 percent of the country's primary-care doctors in 2016, up from 23 percent in 2010.
There are still a lot of doctors who want the independence of their own practice, though. High-achievers like physicians tend to have an in-charge personality type, one that's often unsatisfied by working for someone else.
And there's research to suggest that it's in everyone's best interests for single doctor's offices and small-group practices to stick around. While you might think that economies of scale would lower overall costs when a large healthcare system buys out an independent practice, researchers at Northwestern University's Kellogg School of Management have found that prices for doctors' services have climbed while mergers and acquisitions in healthcare have increased. After all, as monopolies form, there's less competition—and there are disparities in how Medicare pays out to independent doctors versus hospitals.
Besides selling out, there is another way out of the operational morass that often bogs down physicians and their administrators to the point of detracting from patient care and their own success and happiness: turning over the business side of a practice to practice-management experts.
ONE-STOP SHOP
In contrast to the rest of the consolidating healthcare sector these days, the practice-management field is highly fragmented and includes a scattering of regional accounting firms, billing companies, and technology providers to which practices can outsource specific business functions. 
Then there's MedMan, a Boise, Idaho–based company that provides comprehensive, ongoing practice management. MedMan helps physicians and their administrators respond to the evolving business of healthcare—including contracting, regulatory compliance, and mergers and acquisitions—and ensure their practices thrive. The 42-year-old company is, to its partners' knowledge, the only single-focused business of its kind.
"In terms of the business operations of a practice, there's nothing we don't get involved in," says Randy Evaro, MedMan's president and CEO. "Physicians take care of patients, and we take care of the business," he adds—from the front office to long-term strategic planning.
Ho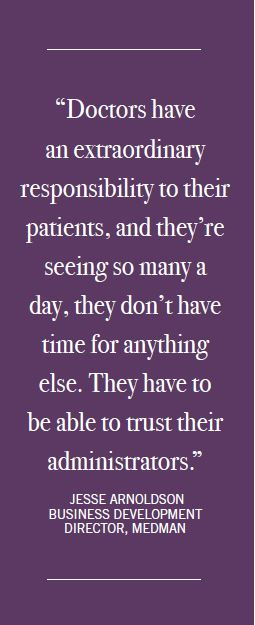 w does MedMan do it? Through a contract with an onsite, MedMan-employed manager and/or an array of consulting products. The company works with doctor-owned groups on insurance agreements, negotiations, governance, physician compensation, and customer service. It measures and plans for financial performance on metrics including reimbursement, revenue cycle, and expense management. It also helps doctors establish new private practices.
Mary Ferguson, CEO of Glenns Ferry Health Center in Mountain Home, Idaho, says that since partnering with MedMan, "we have a more confident staff now. Before, it felt like we were feeling our way through the dark. Today, the staff feel empowered because they're equipped with the knowledge they need. MedMan is not going to come in and do their work and leave, leaving you to go back to business as usual." 
Dr. Kristine Traustason, managing partner at Orion Eye in Bend, Oregon, sought out MedMan four years ago, at a critical time when her practice was facing challenges that compromised its future. "The clinic was going through, I have to say, one of its lowest points," she recalls. "The practice had been open for about 20 years, and run as a mom-and-pop shop—and that worked for about 20 years. We ended up in a crisis situation. We had no idea what was going on financially with the practice. It was unsustainable, and we didn't know if we could even keep our doors open."
The physicians at Orion Eye reached out to MedMan and started to see immediate results following their initial consultation. "Within a month, we were solvent," Dr. Traustason says. "Within two months, we decided we wanted to make MedMan a permanent partner. It's the single best decision I've made as a practice owner."
MedMad currently manages 14 practices directly and does project work for another six. Some of its clients include Seasons Medical in Rexburg, Idaho; Valley OBGYN in Spokane Valley and Liberty Lake, Washington; Cabinet Peaks Family Medicine and Urgent Care in Libby, Montana; Campbell County Health in Gillette, Wyoming; and Krueger and Lenox Oral and Maxillofacial Surgery in Bend, Oregon.
HANDS-ON HELP
According to Jesse Arnoldson, MedMan's business development director, there's usually a triggering event that brings practitioners to MedMan. It could be the loss of a manager, high staff turnover, the opening of a satellite office, an adverse regulatory action, or general financial instability. "Clinics usually come to us in crisis mode," he says. "Then—it's like peeling an onion—you find other issues."
Human resources, he says, is the area where practices get tripped up the most. For example, he says, "There are people in place who shouldn't be there. Job descriptions aren't defined. Morale is low. There's a vacuum of leadership."
That's where a MedMan-placed administrator can make a difference. "Doctors have an extraordinary responsibility to their patients, and they're seeing so many a day, they don't have time for anything else," Arnoldson says. "They have to be able to trust their administrators." 
MedMan currently employs 18 people, including onsite administrators and home-office staff, and works with additional independent contractors. The administrators report to both the lead physician at the group and to MedMan. "The doctors like that we are monitoring their manager for them, comparing the performance to industry benchmarks, assessing the clinic every year and making an annual plan to address opportunities and execute an improvement cycle," Evaro says. "The whole thing spirals upward."
What's more, MedMan administrators are backed up by MedMan's experts in coding, accounting, compliance, and legal matters, whom they can tap whenever need be. The MedMan administrators at the various clinics also turn to each other for help and "vigorously share information, whether it's a tech problem or a compliance issue," Evaro says.
MedMan administrators stay with a practice for an average of seven years, though some stay for 10 or more. Because of this relationship longevity and the high level of accountability that results, the company doesn't like to consider itself a consultancy.
FLOURISHING FUTURE
Sometimes, a practice will decide to permanently hire its MedMan administrator and "graduate" from the company. "For us, losing a client is natural growth," Evaro says. "When you have such an active management agreement as ours, there's a life cycle to it. Clients can stay with us, with a legacy-level contract, as a senior clinic, with a different level of support that still includes annual planning."
Other times, a practitioner will decide to merge or be acquired, after all—and MedMan helps with that process too. Most practitioners only go through that once in a lifetime, but MedMan has done it for clients over four decades and can provide experienced counsel.
Evaro likens MedMan's merger-advisory role—in fittingly medical terms—to that of an objective therapist. "We help them think the decision through, pushing back when they're acting out of stress or duress—or because a hospital is waving a big paycheck at them," he says. "We help them act out of their best interests instead of fear. And we provide them with resources and recommendations from experts who have no dog in the fight."
For those practitioners who stay with MedMan, having their business managed well takes concern out of the equation and enables them to remain independent while being part of the MedMan network of clinics. It's less lonely being part of a robust group of groups that leverages the strength of that larger knowledge base. The company's goal, Arnoldson says, is to continue to be a highly relevant partner to independent doctors, and improve their lives so they can come to work happier and focus on providing continuity and quality of care to more—and hopefully more satisfied—patients.