If you have employees or use contractors, you have obligations and responsibilities, regulations and laws, and general good-sense practices that need to be followed. Even the best of employers can find themselves needing advice or help.
WHAT IS AT RISK?
The Federal Government regularly allocates millions of dollars in proactive enforcement of and investigation for existing employmentrelated laws. Areas previously looked at included hiring, retaining, leaves of absence, termination or resignations, employee discipline, compensation, and taxation issues. Newer legislation adds additional classifications of protection impacting types of leave, discrimination, disabilities, and even genetics. In other words, where there is employment of any kind, there is also risk. Even with this increase, most claims come in the form of an unexpected demand by an attorney or a civil lawsuit.
CLAIMS ARE COSTLY AND RISING
According to a review of claims by the Equal Employment Opportunity Commission from 2009–2015, claims frequency was on the rise in five of 10 categories tracked, with retaliation and disability discrimination leading the set.
According to TrustedChoice.com, over the last 20 years employee lawsuits have risen about 400 percent, with wrongful-termination suits jumping up more than 260 percent. Nearly 41.5 percent of employee lawsuits are brought against private companies with fewer than 100 employees. The financial damage of employee lawsuits can be dramatic; the cost of settling out of court averages $75,000, and jury awards hit an average of $217,000 if a case loses in court.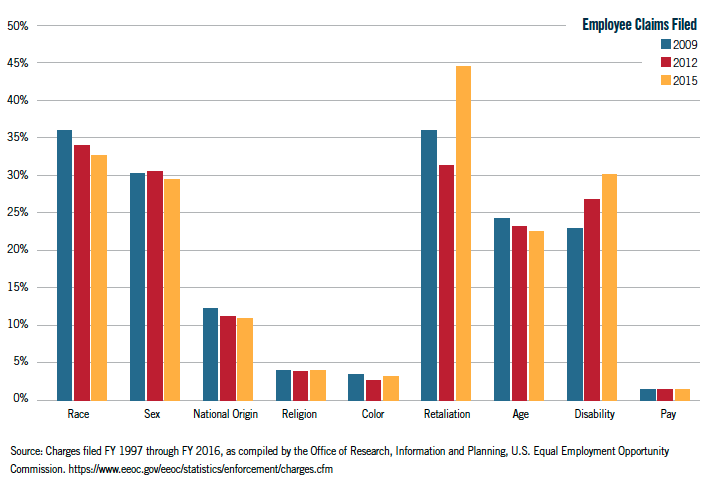 A WIDE RANGE OF CLAIMS NEEDS COMPREHENSIVE COVERAGE
Here are just a few examples of real claims and cases involving employment-practices liability:
A certified medical assistant who was experiencing pregnancy-related medical problems was accommodated by the doctor/employer, who permitted her to work temporarily at the receptionist desk. She had previously been counseled on numerous occasions for poor work performance, absenteeism, and tardiness. Nevertheless, when she received a particularly bad write-up, she threatened that if the doctor terminated her, she would sue and say she was fired because she was pregnant. The claim was finally settled for more than $8,000.
A delivery man had been delivering packages to an emergency clinic for about six months and had become friendly with the clinic's staff, frequently having conversations with the receptionist. On one occasion, the delivery man shared that he was in a committed same-sex relationship. Afterwards, he noticed that the receptionist would act strangely toward him and avoid eye contact with him. He asked if there was a problem, and she responded by telling him that she was uncomfortable speaking with him because she did not approve of his lifestyle due to her religious beliefs. The delivery man filed a complaint with the Human Rights Commission against the clinic, alleging discrimination based on sexual orientation, which triggered coverage under the EPLI endorsement.
A fertility clinic discovered that not everyone was in agreement with expansion plans when one doctor claimed breach of contract and wrongful termination. It seemed the new location would ultimately draw more affluent patients away from the existing center, and the disgruntled doctor felt his revenues and profit-sharing would be slashed. The claim was ultimately settled for $210,000.
A patient, originally from Japan, who frequently visited a clinic and formed relationships with most of the physicians and medical team, experienced unfriendly and hostile care from a nurse who was new to the group. The patient believed this stemmed from her thick accent, and she filed a complaint with the Human Rights Commission alleging discrimination based on national origin.This triggered a Third Party Discrimination claim under the EPLI endorsement.
COMPREHENSIVE COVERAGE
Employment-related lawsuits represent one of the fastest-growing types of civil litigationin the United States. To meet this threat, Physicians Insurance offers Employment Practices Liability (EPL) coverage to meet our members' human-resources needs. Our basic Employment Practices Liability (EPLI) endorsement includes the following at no additional charge:
$100k/$100k for the defense and costs of employment-related claims
Third-party coverage for wrongful actions of employees toward nonemployee(s)
A $2,500 deductible per insured event
Our upgraded EPLI endorsement provides the basic coverages, plus the following additional benefits:
 Higher limits options of $300k/$300k, $500k/$500k, $1M/$1M, or $2M/$4M
The option to purchase defense outside the limits and wage-and-hour coverage
No deductible
Expanded definition for wrongful employment acts includes coverage for (but is not limited to):
- Violations of the Family Medical Leave Act and Uniformed Services Employment and Reemployment Rights Act
- Breaches of civil rights, including violations of the Civil Rights Act of 1866
- Allegations of emotional or mental anguish, wrongful demotion, and failure to hire
ESSENTIAL RESOURCES AND SERVICES
To ensure members are equipped with up-to-date information and regulations, we offer access to a host of authoritative and practical online tools and resources, including:
Updates and comparisons on federal and state laws, state-specific compliance guides, forms, posters, job descriptions, online training programs, and more
Legal consultation, by phone, for employment practices issues
Webinars and ongoing education on contemporary topics
For more information about employment practice liabilities, visit www.phyins.com/epl or call (800) 962-1399.