Community health centers have long been a leader in integrating behavioral and primary healthcare. It's part and parcel of their mission to address the holistic needs of their often underserved, underinsured, and uninsured patients; and as a result, many of these centers have expanded beyond core primary practices into a variety of other services in order to provide more comprehensive access to high-quality, affordable offerings. This has generally made community health centers more experienced than many providers in making integration work seamlessly and effectively for patients.
We asked two community health centers—one in Oregon, the other in Alaska—about their success in integrating behavioral and primary healthcare. They shared what's working, the lessons learned, and the challenges of navigating this often frustratingly complex environment to meet patients' needs. Through it all, they stress the enormous value of this integration, because of the profound difference it makes for their patients and providers alike.
---
UMPQUA COMMUNITY HEALTH CENTER, ROSEBURG, OREGON
Umpqua Community Health Center provides primary medical, dental, and behavioral-health services at six locations throughout Douglas County. Its primary medical services include general and preventive healthcare, chronic-disease management, pediatrics, a comprehensive women's-health program, rheumatology, infectious-disease medicine, immunizations, referrals to specialists, and same-day access for acute care. Its nine dentists provide a full range of dental services. For behavioral healthcare, it now offers psychiatric medication and evaluation, addiction medicine that includes medication-assisted therapy, and treatment for anxiety, depression, bipolar disorder, and stress-related problems. The center also offers counseling with licensed clinical social workers and behavioral-health coaching.
When the center decided to delve into behavioral-health services—first on an outpatient basis in May 2015—its goals were simple: to provide services to the greatest number of patients immediately when a need is identified; and to allow medical providers to focus on medical treatments rather than counseling, thereby reducing session times and preventing primary-care provider burnout. In January 2017, the center took the next step and began developing integrated behavioral health—that is, a team of licensed behavioral-health providers was embedded in the primary-care clinic to assist at the point of care for patients' medical appointments, as requested by the primary-care provider or the patient. The pilot program—inaugurated for two of the center's medical teams—began in June 2017 and ran for six months. The program opened to the entire clinic in January 2018.
"The integration is going very well, based on past and present feedback we have been receiving from patients and providers," says Lorie DeCarvalho, PhD, Director of Behavioral Health Sciences at Umpqua Community Health Center. "That feedback has been overwhelmingly positive."

PROMISING RESULTS
In surveys following the pilot program, patients expressed they had better relationships with their medical teams, felt more supported, and experienced symptom reduction at a faster rate due to their needs being immediately addressed.
Prior to the integration, most of the center's medical providers had expressed feeling overwhelmed when dealing with emotional and mental-health issues—and expressed relief after the integration began, for access to consultations with behavioral-health providers in assessing their needs and determining appropriate treatment plans.
The integration came with internal challenges, too, of course. The main difficulties, DeCarvalho says, were in overcoming perceptions that integrated behavioral health would create workflow issues—such as slowing the primary-care providers down and bogging up exam rooms—and logistical problems in referral processes, billing, and coding.
"It helps to provide education upfront to medical providers about the services available to them and the benefits to their workflow," DeCarvalho says. "It's important to spend time conceptualizing the workflows between the behavioral-health consultant and the primary-care provider. Referral and billing procedures need to be factored in before launching as well."
The effort was entirely worth it for Umpqua Community Health Center. "Having effective communication between the medical and behavioral-health provider in that milieu helped us to better coordinate the services and treatments patients receive from us, which only serves to provide them better care," DeCarvalho explains. "Rotating licensed behavioral-health providers into primary care works better than devoting one or two set individuals. This exposes the patient to all of our behavioral-health providers and ensures continuity of care for the patient."
According to DeCarvalho, they've seen that integrated behavioral health tends to reduce reports of symptoms of anxiety and depression in patients, as well as hospitalizations for patients with significant behavioral-health needs. It has simply been shown to improve overall health-behavior outcomes.
The center has some exciting next steps in the works. "We are planning on physically restructuring the primary-care area into treatment pods and having medical and behavioral-health providers in closer proximity, which will essentially increase our ability to communicate and interact with one another," DeCarvalho says. "This will further increase our cohesiveness as medical teams, and help us provide more seamless and efficient integrated care to our patients."
The center also plans to increase the number of providers so there is one integrated behavioral-health provider for every four medical providers; and to provide more education about additional services that integrated behavioral-health providers can give to patients, such as assisting in the management of chronic medical conditions like diabetes, chronic pain, smoking cessation, and lifestyle management.
LESSONS LEARNED
DeCarvalho's advice for other community health centers:
• Don't be afraid to ask other clinics for guidance.
• Educate medical providers prior to beginning a pilot program, and continue presentations on a consistent basis.
• Educate providers, medical support staff, and front-office staff who serve in integrated behavioral health about the processes, so everyone is on the same page and working as a cohesive team.
• Get billing codes and procedures into place prior to beginning the program.
• Focus on workflows ahead of time.
• Use licensed clinicians.
"Integrated behavioral health seems to be trending in the Northwest region, as the medical field is recognizing the correlation among stress, lifestyle barriers, and medical diseases," DeCarvalho says. "We believe that integrated behavioral health will continue to become more widely studied and utilized, both in this region and across the nation. Caring for the whole person—body, mind, and spirit—and integrating medical science with behavioral-health sciences leads to greater health and healing. "
---
ANCHORAGE NEIGHBORHOOD HEALTH CENTER, ANCHORAGE, ALASKA
The long-term vision of the Anchorage Neighborhood Health Center (ANHC)—to address the unmet primary-healthcare needs of its community—has been instrumental in guiding its evolution over time. The organization's transformation is significant, from its humble beginnings as Alaska's first community health center in 1974, when it was merely a handful of clinicians in a trailer, to its existence today as one of Alaska's largest and most comprehensive primary-care medical and dental practices. In 2018, ANHC served nearly 11,500 patients through more than 48,000 visits.
Their facility has all services located in a single building, organized into three medical pods and a full-service dental clinic, each of which supports collaborative team-based care. In addition, there are in-house X-ray and laboratory services, a pharmacy, patient education to support diabetes and other health conditions, and enrollment and eligibility counselors.
The latest step in the center's development—integrating behavioral healthcare—honors the significance of behavioral health as an integral part of primary-healthcare services, and represents a whole-person approach to health and well-being.
Every medical patient at ANHC has a primary-care team, including a primary-care provider and nursing and care coordination. The patient's primary-care provider works with care-team members to coordinate all routine medical care, including exams, lab tests, medical imaging, diagnosis, and treatment. Additionally, the provider is charged with identifying emotional and lifestyle factors that affect the patient's health, and, when appropriate, will refer patients to other resources such as behavioral-health professionals, complementary therapies, or addiction-treatment professionals. The center's team of behavioral-health providers partners with the primary-care team to provide consultations, brief therapy, specialty care, and medication management. They work closely with the medical providers to help patients with behavior modification to support their medical care plans.
Anchorage Neighborhood Health Center first introduced behavioral-health services in 2015, with one psychologist on staff. As of today, the program has gone through several transitions and now has two Licensed Clinical Social Workers on staff, in addition to psychologist Dr. Hannah Ekstrom, who manages the behavioral-health program and plans to continue growing the center's team of providers. One of these three behavioral-health providers is always available for same-day consultations for patient visits, and there are plans to have specific behavioral-health providers dedicated to each medical pod for better continuity of care.
Ekstrom explained that there's a difference between offering traditional psychotherapy and integrating behavioral-health services. "Integration is not simply offering specialty care in a primary-care clinic—and we have to define that clearly," she says. "Behavioral health isn't its own silo. When we offer integrated services, we're looking at a shared-treatment plan, not just a primary-care provider identifying depression, for example, and sending the patient for external treatment."
The center has found that this model results in reduced stigmas in seeking behavioral-health treatment, as well as better follow-up. "If you can address a problem, right then and there at the time it arises, there's no waiting," Ekstrom says. "There's support, and it's in a familiar place with providers with whom patients already have a comfort level."
Behavioral-health services in ANHC's integrated program include traditional psychotherapy, psychiatry, and behavioral-health consultation. Services are offered for behavioral-health conditions, substance-use disorders, chronic-disease management, stress management, and grief and loss, as well as for many other life needs. Additionally, Ekstrom points out the importance of identifying how patients can engage with healthy behaviors, such as medication adherence or lifestyle changes, with the support of tools and resources through the integrated behavioral-health team.
A WORK IN PROGRESS
The expansion of integrated behavioral-health services at ANHC is a work in progress—and Ekstrom believes the program should always be viewed in a spirit of continued growth and adaptation. "All integrated programs are different, and we've tried different things," she says. "It all depends on the needs of the patients and the organization as a whole. No matter what you try, you're always learning lessons and improving along the way."
"We are very data-driven, and we elicit a lot of feedback," she adds. "We know people are going to primary care to address behavioral health—our patients are asking for more behavioral healthcare from their primary-care providers at our center, and our primary providers are asking for it too." She notes the continued support for the program from ANHC providers, who recognize the significant improvement in overall care that results from partnerships with behavioral health.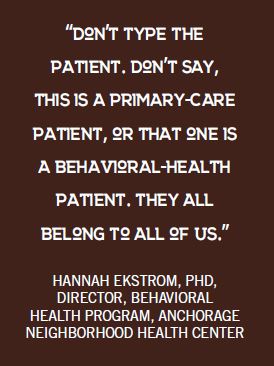 "When we screen for behavioral-health problems on a primary-care visit, we are better at identifying those problems and addressing the barriers that make it difficult to engage in care," she says. Those barriers sometimes include social problems that affect health, such as homelessness; and ANHC has an outreach team, which primarily helps patients access insurance options but also connects them with any social-service providers and community-support referrals they might need.
There are other clinics in Anchorage and throughout Alaska that are providing integrated care, but there aren't enough behavioral-health services in the area to match the need, Ekstrom says. Recognizing that, her center's larger goal is "to integrate behavioral health on a community level—with our relationships with external providers, too—not just integrate on a center level."
For community health centers embarking on the integration process, Ekstrom advises that they "engage with everyone who works at the clinic, at every level, from the board of directors to the front office," and "find a shared language for the different types of professionals you're bringing together."
She also advises against siloing patients. "Don't type the patient," she says. "Don't say, this is a primary-care patient, or that one is a behavioral-health patient. They all belong to all of us."
But most of all, she suggests, "Be thoughtful in how you move forward. Don't try to do everything at once. Remember that you're integrating, not forcing something. And always be willing to adjust course, while keeping the end goal in mind."