Physicians Insurance partners with the University of Washington on a three-year demonstration project, designed to improve communication to prevent adverse events and to communicate more effectively when events occur. The project is funded by the Agency for Healthcare Quality and Research (AHRQ).
Stakeholders Dig Into the Concept of an Early Disclosure and Resolution Program
On April 15, 50 leaders from our partner sites gathered to discuss the AHRQ demonstration project's Disclosure and Resolution Program (DRP). Principal Investigator Thomas Gallagher, MD, convened the meeting, which was attended by medical directors, risk management and claims executives, and defense attorneys representing 11 partner sites.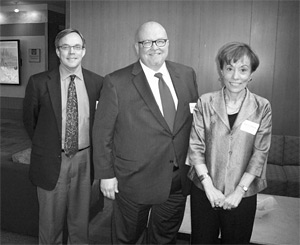 Physicians Insurance President and CEO Mary-Lou Misrahy welcomed the group. "It will take a high level of trust to do this and will require a shift in culture," she said. Meeting participants agreed that the strong foundation of trust already exists between partner sites, given the close working relationship between claims and risk staff for many years, and that this trust will be vital to the success of the DRP. 
By video conference, Michelle Mello, JD, PhD, of Harvard University and leader of the project's DRP component, presented an overview of the DRP. The model outlines the process for hospitals and clinics, practitioners, and their insurers to respond collaboratively and promptly when an adverse patient outcome occurs. Researchers want to know how the model performs in an open system with independent clinics, practitioners, and insurers.
Rick Boothman Provides Insights on the "Michigan Model"
Richard Boothman, JD, Chief Risk Officer of University of Michigan Health System (UMHS), described the experience of Michigan's DRP, which has been active for 10 years. During this period, UMHS cut its claims nearly in half and accelerated the time to resolution, benefiting both patients and clinicians. 
One question raised was whether a DRP might actually generate more claims for an institution. "We haven't experienced much of this or encountered many opportunistic people. Instead we've heard from more grateful patients, not wanting to profit from a loved one's death, but who wanted to know what happened and were moved by a sense of responsibility that the complication not happen to someone else," said Boothman.
A litigator for 22 years, Boothman said UMHS's first step when addressing a claim is determining whether the care was reasonable. The Michigan Model is based on three principles:
If we have injured someone through unreasonable medical care, we will move quickly to compensate that person.
If our care was reasonable under the circumstances or where there has been no patient injury, we owe the staff our support.
We must always learn from our patient's experiences.
UMHS has implemented many system improvements directly as a result of its DRP, lowering the risk of future patient injuries.
The key difference between UMHS and our AHRQ demonstration: all of UMHS's providers were employed by the university. In Washington, the DRP will be deployed in an "open" system with independent clinics and practitioners and multiple insurers.
Research on DRP programs shows that physician endorsement is vital to their success, and that an adverse liability environment brings physicians to the table. "Buy-in and commitment are very strong. The question is how we move it into practice," said Dr. Gallagher.
Providence Everett Sees Results
The conference also showcased Providence Regional Medical Center in Everett, which has cultivated its own culture of transparency and disclosure. Providence has institutionalized root-cause analyses; disclosure policy, training and education; and a patient-family advisory council, among other strategies. 
"In the past nine years, we have dramatically reduced the number of lawsuits and associated reserves," said PaulaBradlee, Providence's director of organizational quality. She adds, "We are now excited to move forward to the next level, which includes being a partner site and building on what we have started."
Next Steps
In the coming months, partner sites that commit to the DRP will assist the project team in customizing a process and implementation plan. Health care teams at partner sites will be trained in how to communicate effectively together and with patients—both preventively and following an adverse event.