Changes on the Board of Directors
A Tribute to Stew Cogan, Dr. Sandy Levy, and Dr. Cheryl Wright-Wilson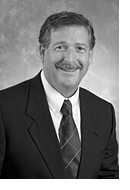 James P. Campbell, MD
Chairman of the Board
Three longstanding Board members, whose terms have expired, are leaving the Physicians Insurance Board of Directors. On behalf of everyone on the Board of Directors and the management team at Physicians Insurance, I want to extend my gratitude for their tireless years of service. Their contributions are so numerous that I will be able to share only a few highlights with you.
Stew Cogan, a prominent Seattle attorney in general commercial practice who developed a well-respected commercial mediation and arbitration practice, started his work for Physicians Insurance as a lawyer for the company's Subscribers Council in the 1980s. He emphasized the role of good governance practices, and he developed an in-depth understanding of the company that would serve him well when he became one of the initial Board directors after the company mutualized in 1999. On the Board, he served on the Claims Committee, Compensation Committee, Executive Committee, Finance and Audit Committee, Nominating Committee, and Underwriting/Marketing Committee. As chair of the Claims Committee, he was an invaluable asset, helping the committee members and company staff understand how the legal system would respond to a variety of issues brought up in the cases before us. I can't say enough how his in-depth knowledge of the legal system, his years of local experience, and his dedication to Physicians Insurance empowered the company to respond effectively to the changes in the insurance and legal climate through the years.
Dr. Sandy Levy, a longtime Seattle anesthesiologist, chaired the company's Subscribers Council for six years. During that time, he published informative articles in the Physicians Report and wrote an annual summation for the annual report—describing the council's duties to oversee the company's finances, operations, and business affairs. As a Subscribers Council member, and later as a Board member, he served on numerous committees: the Claims Committee, Compensation Committee, Executive Committee, Finance and Audit Committee, Investment Committee, Nominating Committee, Risk Management Committee, and Underwriting Committee. On the Claims Committee, he was known for bringing his medical instruments to meetings to clearly demonstrate anesthesia procedures. On the Risk Management Committee, he took the extra steps necessary to become a certified trainer in risk management programs. On the Finance and Audit Committee, he enabled the committee to properly oversee company audits and internal controls. Not satisfied with regular Board and committee work, he also served on all the company's past subsidiary boards and on the ad hoc CEO search committee and IT subcommittee. Driven and vocal about numerous issues affecting his physician colleagues, Sandy has always been thoroughly engaged in the process, and it is hard to imagine a meeting without Sandy's valuable presence.
Dr. Cheryl Wright-Wilson, a longtime Bellevue pediatrician, brought years of pediatric experience to the Board and several committees, including the Claims Committee, Investment Committee, Risk Management/Education Committee, and Underwriting/Marketing Committee. She also served on the CEO search committee and the board of Northwest Dentists Insurance Company, a former Physicians Insurance subsidiary. On the Underwriting/Marketing Committee, she was instrumental in establishing a process by which company staff members would bring all underwriting issues to the table to ensure sound committee decisions. A compassionate colleague, she contacted physicians directly to explain company policies and listened carefully to their responses—often speaking on their behalf in committee meetings. She also helped the committee develop an excellent credentialing process and educated Physicians Insurance staff so that they knew the right questions to ask physicians about their training and experience. In addition, she was very supportive of tort reform and the company's efforts to establish more reasonable liability laws, attending numerous tort reform events to listen and respond to the speakers. Her willingness to ask difficult questions, her advocacy for her physician colleagues, her energy, and her innovative ideas will be greatly missed.
Introducing Lloyd David, Chi-Dooh "Skip" Li, and Dr. Josephine Young 
It is my pleasure to introduce three talented new members to our Board. All of us at Physicians Insurance are excited to work with them.
Lloyd David, currently the executive director and CEO at The Polyclinic—a 165-physician, 750-employee multispecialty clinic in Seattle, Washington—brings recognized expertise in large clinics and a deep understanding of the issues they face today. Under his direction since 1994, The Polyclinic has opened numerous satellite clinics, merged two corporations, implemented managed care programs, and maintained financial success. Prior to his position at The Polyclinic, he worked in several positions at Harborview Medical Center. He was educated at Harvard University and the University of Washington. We look forward to benefiting from his years of impressive experience.
Chi-Dooh "Skip" Li brings his years of experience as an attorney and a board member for several notable organizations. Educated at Seattle Pacific University, George Washington University, and the University
of Washington, he is well known as a former op-ed columnist for the Seattle Post-Intelligencer as well as a founder and board member of Agros International, which helps impoverished communities purchase land and work toward economic stability. With his wealth of experience, interest in good governance, and intellectual curiosity, we know he will ask the most important questions to keep Physicians Insurance financially successful.
Dr. Josephine Young, the chief operating officer at Pediatric Associates—a 77-provider clinic in Bellevue, Washington—understands the major issues faced by a large single-specialty clinic. She was educated at Boston University and the University of Washington. Her past experience as a medical director for Wake Teen Medical Services in Raleigh, North Carolina; as an instructor at the University of North Carolina School of Medicine and University of Washington; and as a pediatric section chief at PacMed Pediatrics has given her a knowledge of changing medical issues from different points of view. As Dr. Wright-Wilson leaves Physicians Insurance, Dr. Young's presence will allow Physicians Insurance to preserve pediatric expertise on the Board. 
It is evident that Physicians Insurance has learned a great deal from the directors who are leaving our Board and will benefit from the new experience that the three new directors will bring. As the challenges of the health care community continue to evolve, we expect the work of our Board members to significantly evolve, too. We are grateful to Stew Cogan, Dr. Levy, and Dr. Wright-Wilson for their years of dedication to the company, and we will continue to call on them for their counsel. In the years ahead, we look forward to a long and productive working relationship with Lloyd David, Chi-Dooh Li, and Dr. Josephine Young.