We've Earned HITRUST Certification
As a business associate to the medical community, we share our Members' concern and diligence about cybercrime by holding ourselves to high security standards. Physicians Insurance A Mutual Company eOasis and Percetive Content systems have earned Certified Status for information security by HITRUST®.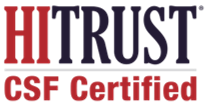 HITRUST CSF® Certified status demonstrates that Physicians Insurance's eOasis and Perceptive Content systems have met key regulations and industry-defined requirements and are appropriately managing risk. eOasis is a policy and claims management system and Perceptive Content is a content management and workflow system that manages the company's electronic forms, invoice processing, and other workflows.
This achievement places Physicians Insurance in an elite group of organizations worldwide that have earned this certification. By including federal and state regulations, standards, and frameworks and incorporating a risk-based approach, Physicians Insurance has addressed complex compliance and privacy requirements through the HITRUST certification process.
---
We Have Libraries and Archives of Resources
At Physicians Insurance/MedChoice, we are constantly working to develop new tools to help Members mitigate risk. Our newest addition is an archive of the ongoing Trial Takeaways webinar series, which serves to explore and demystify the litigation landscape. By creating a website login, Members can access these webinar recordings plus many more resources, such as:
"Trial Takeaways" Webinar Archives
So Now You're a Defendant
Defending a "Missed" Finding: Process Over Perfection
Position Statements from the Resource Library
Position Statement: Off-label Medication 
Position Statement: Use of Chaperones
Courses from the Education Library
Quality Series: Role of Risk Management
Medical Error Prevention
Lifestyle and Medical Risk Factors for a Stroke
Obstetric Hemorrhage: Mitigating Risk to Improve Outcomes
---
COIs and CME Transcripts Are Available Online 24/7
To save time for you and our Members, we want to make it easy to obtain some of the key documents you need. From our website, you can directly download education transcripts and Certificates of Insurance (COIs for PI members only) —all with just a login and a few quick clicks!