With clinics in Boise, Nampa, and Meridian, Idaho Urologic Institute (IUI) serves one of the country's fastest-growing populations.
According to the latest U.S. Census, the Boise metropolitan region is the eighth fastest-growing area in the country. The influx of new patients makes effective communication an evolving challenge, says Gregory Feltenberger, Ph.D, IUI's chief executive officer.
"Our region is experiencing rapid growth, with about 150 people moving here each day," he says. "The majority of them are over 50, and we don't know what kind of care they had previously—each one is like a brand-new patient in our system."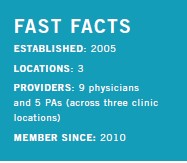 Communicating across disciplines and locations is critical to IUI's success, because its staff of 14 dedicated providers cares for men, women, and children at three clinics and collaborates with more than 20 surgeons of varying specialties at IUI's ambulatory surgical center in Meridian. Since taking the helm seven years ago, Feltenberger has implemented continual communication improvements to keep up with the region's dynamic needs.
"Communication is a forever project, and it is consistently the biggest area of focus for improvement and change," he says.
Here, Feltenberger highlights some key communication initiatives that have allowed IUI to provide world-class care for its growing community.
IDAHO UROLOGIC INSTITUTE PROVIDES COORDINATED CARE FOR MEN, WOMEN, AND CHILDREN, FROM DIAGNOSIS TO TREATMENT TO RECOVERY. HOW DOES THIS MODEL CREATE EFFICIENCES FOR PATIENTS AND PROVIDERS?
We're a lower-cost provider of high-quality care. Our services generally cost 50 to 80 percent less than if the patient were to get the exact same treatment in the hospital. We have created an environment where providers can easily communicate with one another. Our radiologists are onsite doing their reads and collaborating with physicians, which is far more streamlined than what you might find elsewhere. We've got a medical director who oversees the surgical center and the IUI ancillary space, one of the physicians oversees another clinical quality zone, and another physician is our lab director. As a result,we're far more agile and communication is far more efficient—and this shows in our statistics and outcomes. Our 2020 infection rate was 1 percent, whereas typical rates in hospitals are in the 2 to 4 percent range.
HOW DO YOU ENSURE THAT NEW HIRES THRIVE IN THIS HIGHLY COMMUNICATIVE, EFFICIENT ENVIRONMENT?
With new hires, we're looking for a great fit with our professional family. So much of their success is based on fit. I hold a 30-day meet-and-greet with all new employees where I ask them, what's going well? What do you need? What's not going well?
Because our physicians are owners, they are truly invested in the success of the organization, their relationship with their patients, and their connection to the organization.
HOW HAVE YOU WORKED TO IMPROVE COMMUNICATION BETWEEN PROVIDERS, STAFF, AND IUI LEADERSHIP?
We have implemented increased rounding among our staff and improved communication with our leadership team, from a weekly meeting with physician and staff leaders to a monthly meeting with our board. Additionally, over the past two years we have implemented a transition to a new electronic health records (EHR) system to facilitate improved communication throughout the organization.
 
WHAT FACTORS DID YOU CONSIDER BEFORE DECIDING TO TRANSITION TO A NEW EHR SYSTEM IN 2020?
When I first arrived at IUI, they were using an EHR system that was a complete suite of modules for billing, practice management, and scheduling. Our practice was one of the first to use the system, so we were instrumental in helping its developers by sharing our comments and feedback. But we found that that company wasn't as responsive as we'd hoped, and that the system was based on antiquated programming language. We saw the need to move to a cloud-based system for a higher level of security, where we would no longer need to house our servers onsite. We rolled out the new system in spring of 2020 during COVID-19, which posed an additional challenge.
HOW DID IMPLEMENTING A NEW SYSTEM DURING THE PANDEMIC IMPACT YOUR EHR TRANSITION?
The transition was planned for more than a year, but of course we did not anticipate the COVID-19 pandemic. Pre-pandemic, we had planned to transition to the new system in April and May, and temporarily lower our patient volumes during the rollout. We planned to be back at normal volumes within a month, but then COVID hit and naturally decreased our volumes for a longer period. We were changing a lot of our workflows in response to COVID just as everyone was learning the new EHR system, which was a challenge. Hindsight is 20/20, and had we known about COVID's impact, we might have delayed the launch. But by the time the pandemic hit, we had been planning the transition for 18 months, so that train had left the station, so to speak.
However, with lower patient volumes during the spring, we were able to involve more clinical staff in the transition, which was important to the project's success.We shifted the bulk of our physician assistant visits to physicians and involved our PAs and scribes in designing templates within the EHR to streamline patient visits. It is an ongoing process; we're still optimizing our templates based on our physicians' preferences.
HOW DID YOU KEEP CLINICAL STAFF INVOLVED AND UP-TO-DATE DURING THIS TRANSITION?
Going into this transition, I knew that I wanted to have clinical staff be closely involved. When you have an IT professional who spends most of their time writing code and then has to come out as part of an EHR implementation team and train physicians on clinical workflows, there's a huge gap in communication,understanding, and frame of reference. I didn't want IT professionals determining our clinical workflows in the EHR system without appreciating what real clinical workflows should look like.
It made all the difference in the world to have clinical staff become super-users of our new system—the individuals who can take the lead on the implementation from the clinical side. Our medical director, Dr. Todd Waldmann, became a super-user, as did one of our more experienced PAs, Missy McClenahan. I recommend for others that someone with a clinical background take a leadership role in the entire process, from planning to implementation. If I ever go through another EHR transition, that is definitely something I'll do again.
WHAT OUTCOMES CAN YOU SHARE?
Our transition is ongoing, because we are still refining our new system and running it in parallel with our legacy system, which was part of our plan. We are still using the billing module in our legacy system, and plan to transition completely to the new system by the end of this calendar year.
But anecdotally, physicians have shared that the new system, in combination with the use of medical scribes by some of our physicians, has created significant efficiencies. Physicians were spending two to three hours at night inputting patient data into our old EHR, and that burden has been dramatically reduced. We have created the capacity for two additional patient visits per provider per day. Additionally, we have the cost savings of not needing to house servers onsite. COVID-19 threw us a curveball, but overall, this has been a positive change, and one that has enhanced communication among physicians and between providers and patients.
ABOUT IUI
Idaho Urologic Institute provides advanced urologic care for men, women, and children, including diagnostic imaging, minimally invasive surgery, and radiation oncology. Providers care for patients at three locations in Boise, Meridian, and Nampa, and perform surgical procedures at a multispecialty ambulatory surgery center on the Meridian campus.