Robert A. Colvin's analysis of today's health care trends
The Affordable Care Act hits primetime as this publication goes to print. No one can accurately predict the long-term impact it will have on American health care. However, we must agree it is an ambitious experiment to address many of the ills plaguing care delivery in our country today, not the least of which is limited or no access for 50 million citizens. Combine limited access with clinical outcomes that are often worse than those of other developed countries, and then add our unsustainable high costs, and you have a U.S. health care system that fails miserably at providing value. It is this search for value that is perhaps the next great frontier for health care, as business and medicine combine to create a new, sustainable, and scalable model.
DRIVERS OF HEALTH CARE TRENDS
As hard as it is to swallow, American health care has inferior health status when compared to many developed countries around the world. Yes, we have more gun violence, auto accidents, and obesity, per capita, than any other developed country. We also have a much more heterogeneous population with wider variation in economic and social factors than many of these nations. However, we also pay significantly more for drugs and medical devices, have dramatically higher administrative costs, and have overall utilization rates that are off the charts. Combine this with the huge bolus of Baby Boomers coming into a period of high health care needs and our national health care costs reach a truly unsustainable point. (See Figure 1 at left or download PDF.)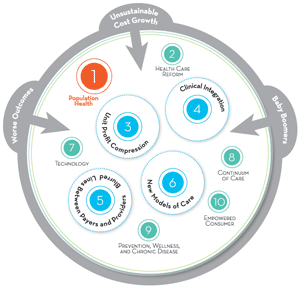 So, just how untenable are our costs? As our health care consumption moves past 18 percent of total gross domestic product (GDP), we dwarf the average of 11 percent spent in other developed countries. So what? Well, 7 percent of our GDP, the relative excess we are spending, amounts to more than $1.1 trillion a year. The chart in Figure 2 (see figure 2 below or see PDF) puts this in perspective. Presently, our "excess" health care spending is nearly twice the entire annual expenditures of the U.S. military, including the war in Afghanistan. (And remember, U.S. defense spending represents nearly half of the total defense spending in the world.)
However, a more troubling comparison shows that our excess health care spending is nearly equal to all money spent annually on public education in the United States. Certainly, as we struggle to adequately fund public education and continue to compete in a global economy, we must significantly reduce health care costs and reallocate resources. We must create value in health care—there is no going back.
KEY TRENDS AFFECTING VALUE
Figure 1 shows ten major trends moving through health care today. Each has the potential to impact the value equation. Four trends will have a major impact on physicians and practices in coming years.
New Models of Care: All components of health care will need to do more with less (see Unit Profit Compression below). Primary care will see a rapid expansion of urgent, retail, and virtual clinics. Physicians of all specialties will need to leverage their time and skills by leading teams of nurse practitioners and other skilled professionals. Hospital-centric models will continue to be replaced by more efficient ambulatory platforms, and shared information must reduce duplication and inefficiencies.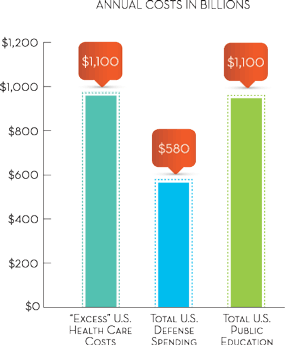 Blurred Lines Between Providers and Payers: As hospital systems see payers maintain higher financial margins and payers pursue more cost control, the lines between these two will blur. Already around the country there are numerous examples of hospital systems forming insurance arms and payers opening clinics and buying hospitals. Accountable care organizations (ACOs) and clinically integrated networks (CINs) will provide both partner opportunities and potential competitive battlefields for these two. The best of these ACOs and CINs will likely combine elements of both.
Clinical Integration: This is taking various forms but is being driven by pressures to stabilize incomes, reduce costs, optimize clinical outcomes, expand the care continuum, and gain market position. ACOs and CINs will take center stage for the next year or two, and the most successful of these will achieve high levels of integration and overall effectiveness. Others will be primarily pursuing defensive positions or chasing incentive dollars and will soon crash. Hospital systems will pursue CINs both as contracting and physician alignment vehicles. Physician groups should recognize that a long-term, tightly aligned CIN relationship may actually be preferred by many health systems versus physician employment as they accomplish a majority of their long-term goals without additional employment expense.
Cost and market pressures will continue to drive mergers of hospitals and health systems, with many hospitals under 150 beds lacking sufficient economies of scale to remain viable on their own. Acquisitions in recent months by Tenet of Vanguard and Community Health Systems of HMA are certainly not the end of this trend to merge hospitals.
Unit profit compression: This has been referred to in the points above but may be the most basic. With the Affordable Care Act, millions of additional people will be added to the health care system. We can afford little, if any, new money to pay for this new care. Thus, payments for each unit of patient care must be reduced over time, i.e., unit profit compression. Reimbursements for primary care will be stabilized for a period of time, and therefore, to encourage care of the newly insured populations, we must expect reimbursements for non-primary care specialists, hospitals, and ambulatory facilities to be reduced fairly significantly and over a relatively short period of time. Whether the system can extract similar margin reductions from the drug and insurance industries will depend a great deal on growing pressure from corporate America to rationalize overall health care costs.
IMPLICATIONS FOR PHYSICIANS AND PRACTICES
Physicians and practice administrators need to continually evaluate their own markets and consider the long-term implications of status quo and change. The most efficient care models, which fully leverage a physician's time and skills, will be in demand in every future scenario. The ability to positively impact patients efficiently with quality outcomes is the new imperative—and a cornerstone for all other changes.
Physicians may choose health system employment or employment with larger groups, but it makes sense only to the degree those organizations are able to weather the storms they too are about to encounter. Certainly, many hospital systems are and will be experiencing their own challenges with significantly reduced per unit reimbursement. The opportunity to strategically align with health systems or payers through CINs or ACOs may provide many of the benefits of larger group employment while allowing physicians to retain more independence.
There is enough evidence that the status quo is not sustainable and the pace of change over the next five years will be as great as anytime in the last 40. Physicians, practice managers, hospital administrators—all need to be at the forefront of addressing every major trend and collaborating on solutions. If we can bend the cost curve, change practice patterns, and even influence population health choices, the American health care system can and will improve as a result.
BOB COLVIN is a principal at Health System Advisors. He has over 25 years of experience leading hospitals and health systems in strategic solutions, ranging from a 500+ bed academic medical center to for-profit facilities, suburban facilities, and small rural hospitals. His experience includes operating a large multispecialty physician group, regional ambulance services, home health agencies, and community primary care clinics. Bob.Colvin@HealthSystemAdvisors.com