IN THE WAKE OF #METOO, YOU CAN TAKE STEPS TO MITIGATE YOUR RISK  
Last December, United Airlines agreed to pay $321,000 to settle a harassment suit after one of their pilots allegedly posted explicit photos on social media of  a flight attendant, repeatedly and without her consent, for years. 
The case alleged that the airline was made aware of the pilot's behavior  but did not take action to prevent or correct the conduct.
"Employers must not ignore harassment complaints simply because the harasser holds a position of authority," says U.S. Equal Employment Opportunity Commission supervisory trial attorney Eduardo Juarez, in a release announcing the settlement.
United is not alone. In recent months, Uber has agreed to pay $4.4 million to resolve a sexual-harassment and retaliation charge, and Dollar General accepted a $6 million settlement when faced with charges that it denied employment to African Americans at a higher rate than to white applicants.
EMPLOYMENT PRACTICES LIABILITY INSURANCE:  NO LONGER A LUXURY 
Employment Practices Liability Insurance (EPLI) offers employers coverage against claims of discrimination (based on race, sex, age, or disability), wrongful termination, sexual harassment, retaliation, and other employment-related issues, including failure to promote. 
While once considered a niche product, EPLI policies  are now offered by most major insurance companies.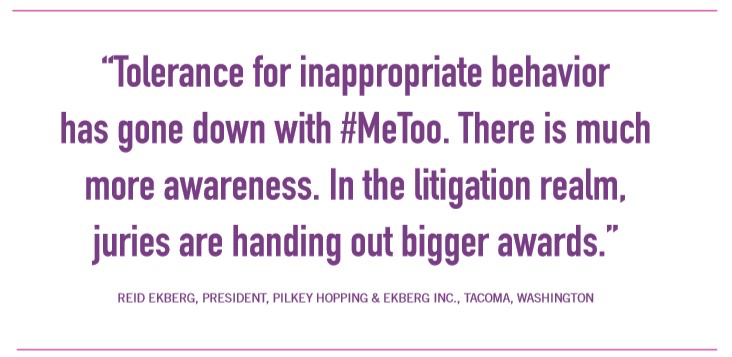 These examples are just a few of the big-name, big-dollar discrimination, retaliation, and sexual-harassment cases currently being handled by the U.S. Equal Employment Opportunity Commission (eeoc.gov), the federal agency charged with enforcing laws that prohibit discrimination on the job. And in the wake of the #MeToo movement, claims against harassment specifically are on the rise. 
"The biggest trend right now is a social trend," says Reid Ekberg, president of Pilkey Hopping & Ekberg Inc., a Tacoma, Washington–based insurance brokerage. "Tolerance for inappropriate behavior has gone down with #MeToo. There is much more awareness. In the litigation realm, juries are handing out bigger awards."
Here, we offer a few steps to help your office steer clear of potential missteps in order to lessen the chance of employment practices litigation.
"I would really encourage every business, even small businesses, to have a stand-alone EPLI or management liability policy," says Ekberg. "If it's a small business, you might be okay with $500,000, though usually we start with $1 million in coverage."
Some insurance companies offer free EPLI claims-assistance services, with some even providing channels such as a 1-800 or email hotline to field questions. "If you have a scenario you have a question about, you can make contact and ask a question," Ekberg says. "Those resources are very valuable for policyholders." 
EMPLOYEE TRAINING REDUCES RISK 
As vital as EPLI coverage is, though, it's only one step in  any employer's risk-mitigation plan. The real key is to take steps within your office to reduce the chance of potential wrongful-act claims.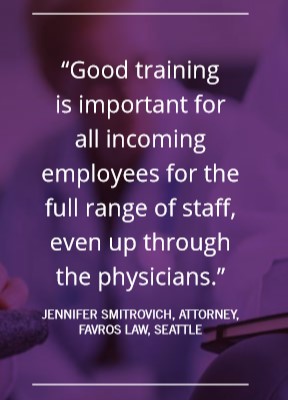 First, take time to re-evaluate your employee-training protocols at least annually. Be sure your office has an employee handbook, and check that it's up to date and in compliance with the latest employment laws in your state. 
Laws surrounding the wording of employee-training materials can  change from year to year. Case in point: Oregon recently passed a Workplace Fairness Act requiring precise written policies to prevent unlawful employment practices. The legislation mandates that specific details be included in all employee handbooks.
If your office doesn't already have a designated HR manager, it's a good idea to task a staff member to stay abreast of changes to HR policies and employment legislation affecting your state. Websites for your state legislature, state labor department, or statewide Chamber of Commerce are good portals to check for updates. 
Also, you should set aside time for employee training with new on-boarding staff, once as they're hired and again for your full team at least once a year— or more often, if possible.
"Good training is important for all incoming employees for the full range of staff, even up through the physicians," says Jennifer Smitrovich, an attorney with FAVROS Law in Seattle. "Educate employees about various situations— what a hostile work environment means, what is appropriate, what is inappropriate. In light of the #MeToo movement and what's happening in terms of the visibility of sexual harassment in the workplace, many states are moving toward making these trainings mandatory."
Beyond issues of harassment, it's also important that your employee handbook outline clear guidelines for proper or expected standards of employee behavior at work—as well as the precise administrative steps that will be taken to address situations in which they're not being met. Having everyone on the same page helps avoid the risk for claims of discrimination or retaliation down the line. 
"Especially in smaller group practices, there's often not a lot of guidance in place," Smitrovich says. "In some cases, there are no written policies or procedures in place. But if you have an employee who is improperly using the internet at work, who is really tardy all the time—whatever the issue is, having a policy that says, 'Here's what the expectation is' helps, if you want to take disciplinary action later."
KEEP RECORDS UP TO DATE 
Because claims against wrongful termination, failure to promote, or discrimination can sometimes come down to one person's word against another's, carefully keeping employment records for all staff— including information about hiring, firing, employee job evaluations, and staff interactions—is essential.  
"Record-keeping is paramount, especially in cases where you've got a wrongful-termination claim, or if you place an employee on a performanceimprovement plan on a path toward termination," says Smitrovich. "It's one thing to say something to an employee, as in, 'You need to improve,' or, 'You're not meeting expectations'—but if it's not in writing, it almost doesn't count. If an employee is fired or offered a resignation in lieu of firing and a claim comes later, juries are less likely to see the dismissal as some sort of retaliation or perceived discrimination if you have documentation in place. Having written evaluations—documentation in a personnel file or anything about efforts to improve performance—could help defend your case."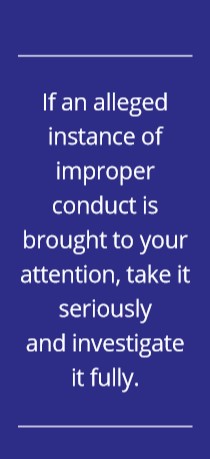 Ekberg agrees. "Was the issue really that they were missing things and missing procedures? Did you document that? That's the really important piece," he says. "All of these claims involve a level of 'my word against yours,' which is why documentation is critical in defending yourself."
Additionally, be aware that many states have begun extending their statute of limitations for harassment or discrimination claims, so it's important to enact a record-keeping policy that extends beyond the statute of limitations for your area.
"The statute of limitations for discrimination and sexual-harassment claims in Oregon is going up, from one year to five years," says Michael Estok, an attorney with Lindsay Hart LLP in Portland, Oregon. "You want to make sure you don't delete anything until the statute of limitations fully runs its course. That material—especially if there was helpful information in there—if it's gone, makes your case harder to defend."
Destroying personnel records before the statute of limitations runs out, even if by mistake or without nefarious intent, can be viewed, legally, as "spoliation of evidence, which has negative consequences in the courts," Smitrovich says. 
ACT QUICKLY ON COMPLAINTS 
Finally, if an alleged instance of improper conduct—say, an incident of harassment between two employees at your office—is brought to your attention, take it seriously and investigate it fully. Ignoring it or trying to dismiss it via an internal investigation that lacks thoroughness can, in the long run, lead to a stronger case in court for the plaintiff.
"If there's a lack of adequate factgathering or documentation, or if there are things in the report that seem biased, or if the employer is inclined to find things unsubstantiated without due process, it can become a big problem for the clinic facing the case," says Estok.
In cases such as these, Estok recommends bringing in an independent investigator to address the situation when possible.
"That's when the company can show that they went above and beyond in trying to investigate the incident and take it seriously," he says. "Then they can explain what they did or didn't do in good faith." 
---
Sources: 
Reid Ekberg, President, Pilkey Hopping & Ekberg Inc.
Michael Estok, JD, Lindsay Hart LLP 
Jennifer Smitrovich, JD, Principal/Owner, FAVROS Law