Small, independent hospitals in rural areas are few and far between these days.
As the healthcare industry continues to consolidate and large health systems become the norm across the country, what's gained are greater resources, economies of scale, and concentrations of expertise—but what's lost are proximity, community ties, and personalized, locally coordinated care.
There doesn't always have to be a trade-off, though. Under the right circumstances, hospitals can stay small and strong. Case in point: South Peninsula Hospital in Homer, Alaska.
PICTURE-PERFECT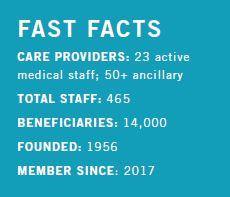 Homer is a small city of about 6,000 residents on Kachemak Bay, on Alaska's Kenai Peninsula. The city sits on a long strip of beaches lined with shops, art galleries, and seafood restaurants, and fishing boats dock at its harbor. The new CEO of South Peninsula Hospital, Ryan Smith, describes it as a "postcard community"—a nature lovers' paradise that an outdoorsman such as himself can't resist. In fact, this is the third time Smith has moved to the area—this time for good, he says, as he hopes to eventually spend his retirement there. "For those who don't like big population centers and who love to hunt and fish, this is the place to be," he says. As such, Homer is becoming a destination location for many retirees—mostly in the summer, but more and more are now staying year-round.
As this trend has grown, so has South Peninsula Hospital. Its annual net revenue has increased from $30 million to $80 million in the last decade. "We're increasingly busier with Medicare patients," Smith says, "and our future plans will revolve around that. We'll grow to meet that need with more facilities."
COMMUNITY PILLAR
South Peninsula Hospital is a full-service, nonprofit hospital that was founded in 1956 with three beds. Today, it's a state-of-the-art facility licensed for 22 medical beds and 28 nursing-home beds. It employs 70 physicians who provide general, acute, post-acute, and specialty care. Services include emergency care, a birthing center, cancer care, a functional-medicine clinic, home-health services, imaging and laboratory services, long-term care, rehabilitation services, a sleep center, orthopedics, surgery, and more.

The hospital is the result of a partnership between the Kenai Peninsula Borough (providing service-area tax support for the facility and capital investments), the City of Homer (for the land), and SPH, Inc. (the nonprofit organization that provides the healthcare). The hospital is governed by a nine-member board of directors, and an elected Service Area Board provides public recommendations on capital spending with tax dollars and scope of services.
The hospital employs more than 400 local residents, making it the area's largest employer, and contributes over $20,000,000 annually to the local economy in payroll alone. That, combined with service contracts, materials acquisitions, and leases, creates a significant positive impact on the area's economic health.
CRITICAL ACCESS
South Peninsula Hospital has a service area of about 15,000 residents. (The next nearest hospital is 75 miles away.) South Peninsula is a "critical access hospital," a designation by the Centers for Medicare and Medicaid Services that is intended to keep essential healthcare in rural areas. Among the benefits of critical access status is favorable reimbursement rates for
Medicare services.
The program's requirements have been amended over the years and are always up for debate, so there is some risk to its future. "With the political nature of healthcare now, and dialogue at the national level about reimbursement cuts, there is some instability surrounding critical access status," Smith says, "but our geographic isolation is an advantage in this respect."
South Peninsula has the distinction of being one of the best critical access hospitals in the country. Over the last seven years, it has three times been named a Top 100 Critical Access Hospital, out of more than 1,300 critical access hospitals nationwide. These top 100 scored best on the iVantage Health Analytics' Hospital Strength Index, which incorporates 56 different performance metrics, including quality, outcomes, patient perspective, affordability, and efficiency. (iVantage Health Analytics recognizes exceptional performance among all eligible U.S. general acute-care hospitals, including all rural hospitals and the more than 1,300 designated critical access hospitals.) "This evaluation all goes back to us learning to provide better personalized healthcare," Smith says.
HOME BASE
Smith joined the hospital as its new CEO in August 2019. Originally from Ohio, he later lived in Oregon, Utah, and Wyoming, but Alaska kept calling him back, and has since become his home. Smith was previously CFO of South Peninsula from 1996 to 1998, and from 2006 to 2011 he served as CEO of Central Peninsula Hospital in Soldotna, Alaska, where he oversaw a $50 million expansion. His most recent position was as CEO of Memorial Hospital of Converse County in Douglas, Wyoming.
Smith is the third CEO of South Peninsula in less than two years, and one of his goals there is to create stability and consistency in leadership as the hospital confronts reimbursement challenges and capitalizes on growth opportunities in its primary-care and specialty surgical services.
For Smith, the draw to South Peninsula is not just the beautiful area, but also the chance to work at a locally controlled hospital. "There are fewer and fewer opportunities like this," he says. "And it's so important to the community, the patients, and the staff that healthcare decisions be made by the people who live here. Someone outside shouldn't dictate that to us."