For companies of any size in any industry, human resources is one of the most complicated and fast-changing areas of business management—and one that's fraught with liability.
Layer in the challenges of running a medical practice and addressing emerging social issues, and human-resources managers in this field certainly have their work cut out for them.
Enter HR Hero—a collection of online state-specific and federal employment-law resources for HR professionals, created to help them find quick answers to their employment-law and management questions, maintain a positive and productive workplace, and avoid devastating lawsuits. Users of HR Hero can rely on the expertise of employment-law attorneys in all 50 states and Washington, D.C., for assistance with human-resources compliance and strategic planning, via tools that can be customized to each organization.
"A resource like HR Hero is preventative care for those with HR responsibilities," says Susan Brodeur, a representative from BLR who provides and maintains content on HR Hero. "Any HR mistake can potentially become a claim, so HR Hero is a crucial support resource to access for guidance on HR issues and documentation."
While HR Hero offers an array of features to access, the two most popular are the Employee Handbook Builder and the Fair Labor Standards Act (FLSA) Audit and Classification tool.
"The employee handbook is the most important HR document," Brodeur says. "If a problem arises, it is likely that an employee's attorney will request a copy of it." Even if there's already one in place, she urges all organizations to make sure their handbooks are updated and not missing essential elements. "If it's out of date, it doesn't reflect well on the organization," she says. HR Hero's handbook builder generates an employee handbook with updates specific to the user's needs—including state addendums—that can be downloaded. Policies regarding discrimination, sexual harassment, and substance use are part of a handbook and should also be part of a training program, which the resource can also support.
The FLSA Audit and Classification tool is a step-by-step assessment of an individual job that helps determine whether the position should be paid on an hourly basis or if it can be salaried (exempt). The Fair Labor Standards Act (FLSA) establishes minimum wage, overtime pay, record-keeping, and youth-employment standards affecting full-time and part-time employees in the private sector and in federal, state, and local governments. The rules for salaried and hourly pay have changed effective January, 2020, so businesses should use the tool to make sure they're compliant, Brodeur says.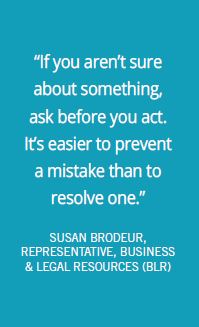 HR Hero also includes access to:
• Regulatory informational analysis that not only summarizes the detail of the regulations but also helps to make it understandable.
• Self-audit checklists to determine whether you are compliant.
• A state law chart builder that allows you to pick your state(s) and topics to create a compliance chart.
• A job description builder that includes relevant tasks, behaviors, and physical requirements for that job; the ability to add, edit, delete, or reorganize easily and quickly; the ability to create a personal job-description library; and the ability to produce printable PDFs with the click of a mouse.
• A salary finder for benchmark competitive salary data that can be set according to demographics by industry, state, and city, and that can access data for more than 2,500 job titles.
• Email-based support where users can email questions to employment law experts for guidance. With a typical turnaround time of 24 hours, responses come with details to save for your files.
Users of HR Hero can also receive alerts with time-sensitive information such as upcoming compliance dates, minimum-wage increases by state and when they take effect, changes to drug-screening policies or sick leave, and the like. The alerts also feature insightful articles on best practices.
Further, HR Hero offers customizable instructor-led training resources that include training documents for group trainings on more than 165 HR topics, in the form of 10-minute trainers and customizable slides with supporting documents such as exercises, handouts, quizzes, and speaker notes.
"Unconscious-bias training is new and popular," Brodeur says. "Everyone has some unconscious bias, and it's very worthwhile to explore this topic with both supervisors and employees in order to get at the root of recognizing and overcoming potential discrimination issues." Sexual-harassment training resources are also available.
"If you aren't sure about something, ask before you act," Brodeur says. "It's easier to prevent a mistake than to resolve one."
You can find HR Hero in the Resource Library at phyins.com/resource-library—or call your account manager to learn more.
NOTE: If you have an imminent issue that requires immediate legal attention, contact Physicians Insurance and ask for a claims representative.
---
Finding Additional Resources
Physicians Insurance provides its clients with excellent legal defense, should they need it—but in addition, it offers services and resources to help protect clients from needing it in the first place. Many of these are found online in the password-protected Physicians Insurance portal (phyins.com).
Look for HR Hero in the Additional Resources section of the Resource Library, under the Risk Management tab at phyins.com.